Winter Training League
Dates: December 3 – February 27, 2019
Description: This 3 month course will teach student-athletes skills for all positions as well as provide weekly homework. Coach Chase Young will lead the instruction of skills, drills, and concepts for 30-45 min followed by 30-45 minutes of live scrimmage. These sessions allow players to improve their skills through challenging drills while allowing them to feel comfortable practicing their new skills in a live setting. This is a great way to continue with your team in the Winter while getting quality training each week.
Price: $310/11 sessions $35/session for prorated student-athletes
Where: Calvary Christian Assembly Church
When:
Tuesdays: (Dec. 3, 10, 17 & Jan 7, 14, 21, 28 & Feb. 4, 11, 18, 25)
Boys 3rd-5th Grade: Tuesdays from 4-5:15pm
Thursdays: (Dec. 5, 12, 19 & Jan. 9, 16, 23, 30 & Feb. 6, 13, 20, 27)
Girls 3rd-5th Grade from 4-5:15pm
Girls 6th-8th Grade from 5:15-6:30pm
Boys 6th-8th Grade from 6:30-7:45pm
June Hoopfest Training League
Thank you for your interest in our June Hoopfest Training Leagues! Each of the 4 sessions are an hour and 15 minutes. long and take place at the Calvary Christian Assembly Church near Roosevelt HS. These sessions are run by head coach Chase Young and other staff members. We will work on fundamentals and concepts with plenty of 3 on 3 training and live scrimmage. For teams wanting to get ready for Hoopfest at the end of June, this is a great way to prepared and build chemistry by practicing, training, and competing together. You don't have to be on a 3 on 3 team to participate in this class, nor do you have to have your entire team register for it. These sessions are fun, productive, challenging, and really help improve their skills and love for the game.
Dates: June 4th, 11th, 18th, and 25th (Tuesdays)
Age Groups Times:
3rd-5th Grade Girls Only Tuesdays 4:30-5:45pm ***Full***
3rd-6th Grade Girls Only Tuesdays 5:45-7pm
5th-8th Grade Boys and Girls Tuesdays 7-8:15pm
Price: $125/player
Gym: Calvary Christian Assembly Church
Seattle Select Warriors June Elite Camp
June 24th-26th (Monday through Wednesday)
5th-9th Grade Boys
From 10am-2pm
This elite camp is for our Warriors team members as well as advanced or competitive players who want to be challenged and taken to the next level. The camp is at Calvary Church and is run by head coach Chase Young and other staff members. The skills and concepts will be challenging with live reps, competitions, film study, and homework.
Day 1 – PG
Day 2 – Post
Day 3 – Shooting
Price: $200 Non-Team Members and $100 for Team Members
Gym: Calvary Christian Assembly Church
Questions or concerns: Chase Young / 206-930-7975 / chaseyoung206@yahoo.com
Summer Elite Camps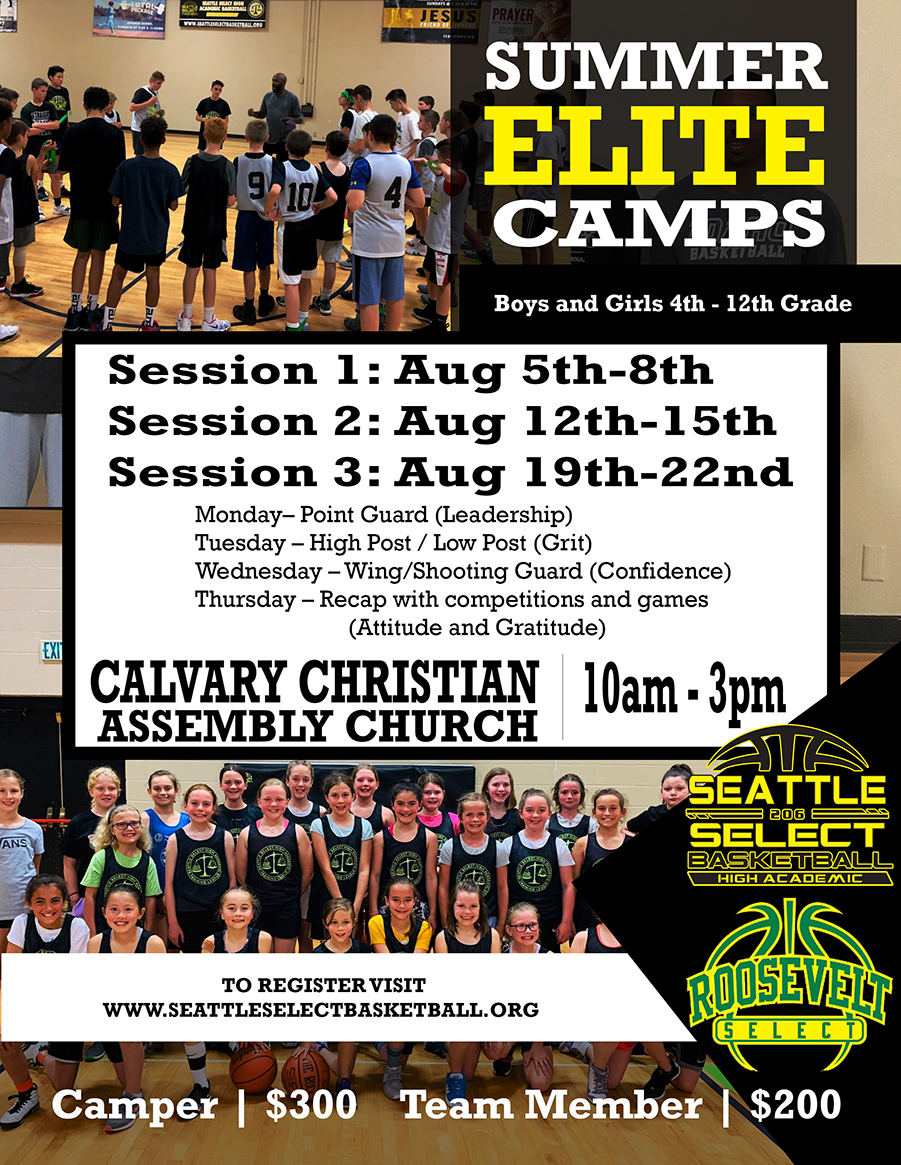 Boys and Girls 4th-12th Grade
Session 1: Aug 5th-8th from 10am-3pm
Session 2: Aug 12th-15th from 10am-3pm
Session 3: Aug 19th-22nd from 10am-3pm
Gym: Calvary Christian Assembly Church
We will hold 3 camps this Summer which will each include four full days of training for each position in basketball. These camps are for student-athletes in 4th-12th grade who are competitive and strong players. These are great camps for taking your game and basketball IQ to the next level. Student-athletes study film, set goals, spend time on the white board, and receive daily homework. On the court we cover all aspects of each position through drills, competitions, concepts, and games. In addition to the hoop skills and IQ, we promote daily messages to our student-athletes to help them be more mindful of the bigger picture.
Monday – Point Guard (Leadership)
Tuesday – High Post / Low Post (Grit)
Wednesday – Wing/Shooting Guard (Confidence)
Thursday – Recap with competitions and games (Attitude and Gratitude)
All camps are lead by head coach Chase Young. Additional coaches include current and retired players as well as Seattle Select High Academic team coaches.
Price:
$300 – Camper
$200 – Team Members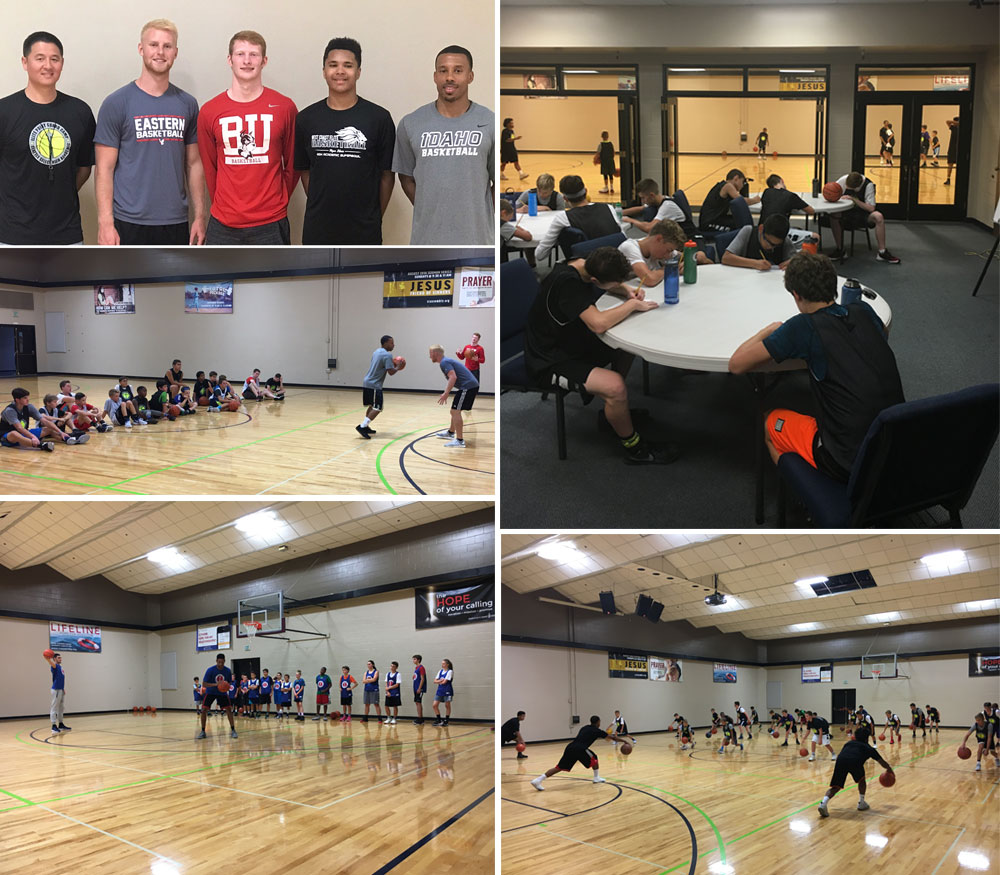 Shoreline Training with Coach Junior
These are 1.5 hour long training sessions with a coach Junior Chibuogwu. Coach Junior was a D1 student-athlete who played all 4 years and graduated from Seattle U under coach Cameron Dollar. He is also a local Shorecrest grad who played AAU for coach Young for many years. These weekly classes will focus on specific areas that your student-athlete needs improvement on, plus cover daily fundamentals, competitions, and homework.
Age Groups: 3rd-HS Boys and Girls
Gym: Meridian Park Elementary School
Days and Time: Tuesdays from 7-8:30pm
Dates:
Oct 1, 8, 15, 22, 29
Nov 5, 12, 19, 26
Dec 3, 10, 17
Jan 7, 14, 21, 28
Feb 4, 11, 25
Mar 3, 10, 17, 24, 31
Apr 7, 14, 28
May 5, 12, 19, 26
Price:
$100 / 1 month
$180 / 2 months
$250 / 3 months
$500 / 6-8 months (2 months free)
Forrest Ward Scholarships Available
Seattle Select Team Members ***Free***
What to Bring: Please bring a basketball ball and water to each session.
Winter Holiday Shooting Clinic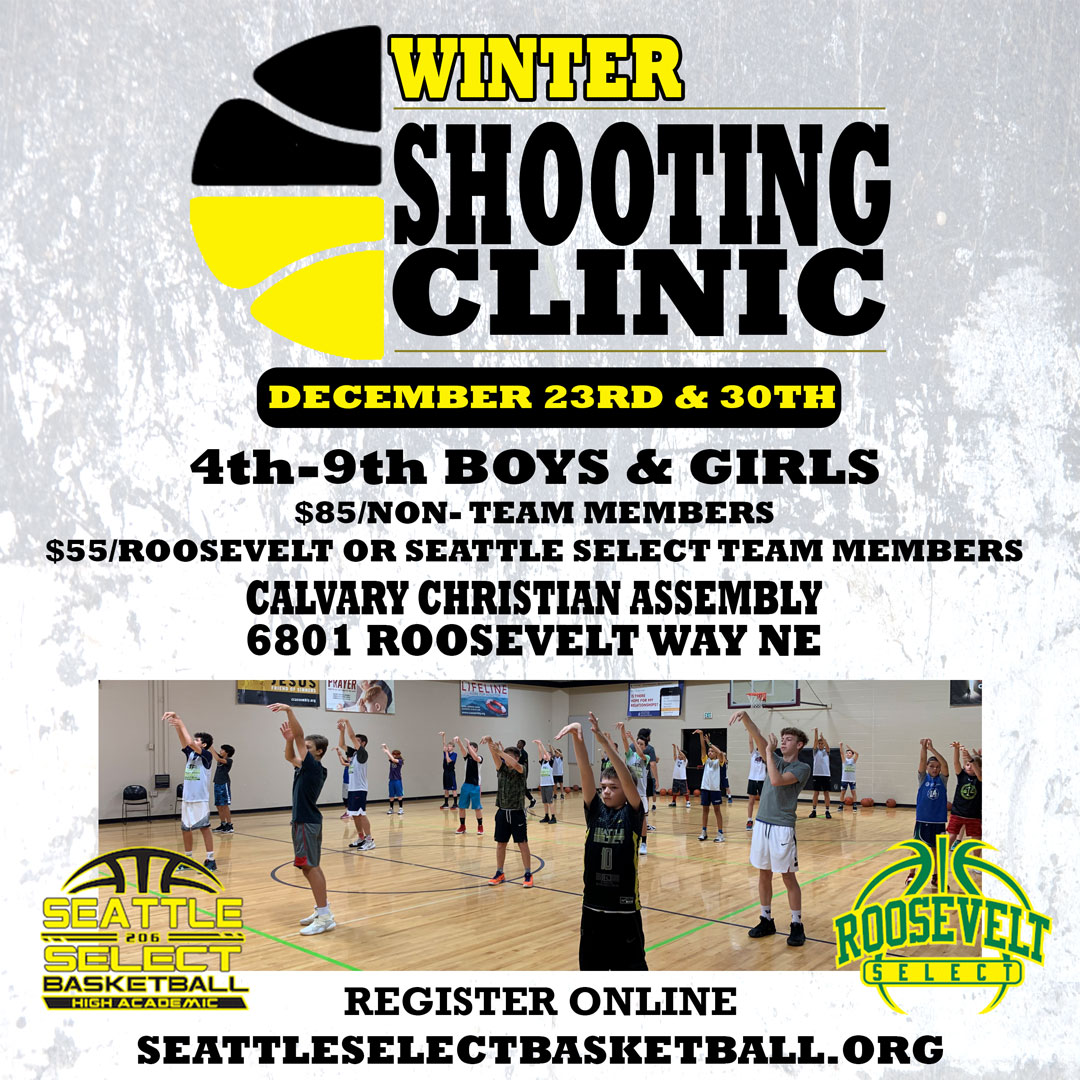 This Winter we will have 2 Holiday Shooting Clinics. The clinics will coached by Chase Young and other coaches in our program and will include shooting form, mechanics, footwork, release, shot speed, creating a shot, and lots of fun games and competitions for prizes. Each student-athlete will receive a shirt.
Dates: Dec. 23rd and Dec. 30th
Times: 10am-3pm
Grades: Boys and Girls 4th-9th Grade
Price: $85/non team members or $75/Roosevelt or Seattle Select Team Members
Includes event shirt
Gym: Calvary Christian Assembly Church
Questions or concerns:  Chase Young / 206-930-7975 / chaseyoung206@yahoo.com