Practices
Practices are once a week at our home gym in Seattle. Teams will be paired with another team to help with scrimmage and competition. Practices are 1.5 hours long.
| Monday Team Practices | Team |
| --- | --- |
| 5-6:30pm | 5th & 6th Boys |
| 6:30-8pm | 7th Boys |
| 6:30-8:15pm | 8th Boys |
| Tuesday Team Practices | Teams |
| 5-6:30pm | 9th Boys |
| 6-7:30pm | 10th Boys |
| 7-8:30pm | 11th & 12th Boys |
| Thursday Team Training | Teams |
| 4:15-5:30pm | 5th & 6th Boys |
| 5-6:30pm | 7th & 8th Boys |
| 6:30-8pm | 9th & 10th Boys |
| 7:30-9pm | 11th-12th Boys |
Team Training
Each week our student-athletes will train with coach Chase Young and other Seattle Select team coaches on different positions, skills, concepts, and homework. This unique way of diverse training allows all our student-athletes to improve their skills for all positions. These team training sessions are at Calvary Christian Assembly Church on Thursdays.
Week 1 – Point Guard and Leadership
Week 2 – Post and Zone Attacking
Week 3 – Shooting and Perimeter Attacking
Week 4 – Defense and Pick and Rolls
Repeats each month with more advanced moves
Strength and Mobility with Coach Mike Knight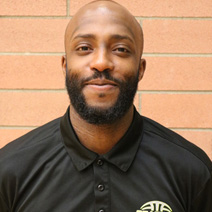 During our weekly team training coach Mike Knight will help our student-athletes build their core strength and mobility for 30 minutes. Our team members will learn how to stretch and strengthen their own bodies to help prevent injury and maximize their athleticism. Michael Knight played basketball professionally in Europe, Asia, and several American leagues as well as numerous tour teams in the Netherlands and Belgium. He is a certified trainer who comes from a rich training culture in Seattle, studying under the world renown trainer Tim Manson (www.r3bartraining.com); training extensively with numerous NBA, NFL, MLB, MLS and European/ Asian league professional basketball players. Tim and Michael are launching a revolutionary fitness product available this spring called the R3BAR; specializing in core stabilization, connected strength/mobility, body awareness, injury reduction and realignment.